The year was 1998. She was 21 and glittering.
Versace on her back, Valentino at her feet, Tiffany on her ears. Aaron Kwok on her arm.
Granted, she was interviewing him for MTV Asia, but still. Which 21-year-old girl from a little red dot could boast a "date" with Lee Hom, Andy Lau or Jacky Cheung?
Belinda Lee, now 42, was the first MTV Asia VJ from Singapore and was properly fêted by the press and the people.
When the cameras stopped rolling, young Belinda would slip away unnoticed, back to a simple HDB flat, close the front door quietly so as not to announce her return (her work in entertainment was frowned upon by her conservative parents), and sink into … emptiness.
"I could interview the biggest star and come home feeling empty because I felt like that wasn't enough. I didn't find any meaning in it," Belinda says.
The independent, athletic tomboy didn't join MTV for the glitz. "Actually I did not even know that I was going to get a contract with MTV when I joined the MTV VJ contest! I thought I was going to win some shopping vouchers, maybe a three-day stay in Phuket or Bali and that was it!" she laughs now at her naiveté.
"There were even thoughts of me giving up and ending my life. Because I had nothing to hold on to. I was constantly searching for an answer: Who am I? Why am I here?"
"I joined not because I wanted the glamour; I joined because I hoped to earn some money from it, just to support myself a little bit," says the 20-year TV veteran, who started supporting herself from the age of 17 with O-level qualifications.
"Actually I was overwhelmed by the stardom. I didn't know how to handle it," she adds ruefully. "So I was living a life of no purpose. It was just party after party, one interview after another. But if you ask me whether I found any meaning in it? No. I got into all the wrong relationships.
"There were even thoughts of me giving up and ending my life when the going got tough. Because I had nothing to hold on to. I had no family support because my family was against me joining the entertainment industry. I was constantly searching for an answer: Who am I? Why am I here?"
A friend in deed
"I often ran to Donita to cry, and to tell her about all my failed relationships," remembers Belinda of good friend and fellow MTV Asia VJ, Donita Rose.
"Donita would always tell me: 'Belinda, this void that you feel in your heart can only be filled by God.' But I felt so empty and hollow that I just would not believe God could fill the void.
"This went on for a few years. Then I woke up one day and all those things that Donita had shared with me about Jesus Christ flashed through my mind like a movie. Suddenly there was a knowing in my heart, that it was time for me to acknowledge Jesus Christ as my God.
"That morning after the service in church, I prayed the sinner's prayer, asking Jesus to be my Lord and Saviour. I have to thank Donita, because without her fervent prayers for me, I could still be a lost sheep today."
Her new director in life
Since then, God has been an integral part of her life, including her work.
"Many producers like that I'm Christian because I'm not pantang (superstitious)!" she says. "Sometimes when I'm filming overseas, I'm called to do things like sleep in a cemetery and handle human bones. Others might say 'no' because to them it's bad luck. But because I'm a child of God, it does not matter where I sleep! I bring along God's protection with me. 
"Before I interview someone, especially the very difficult ones, I always pray before I step into their house. You'd be amazed at how God truly works.
"I understand the heart of a broken person. Who am I to judge her? … Being difficult comes from a place of pain and trauma. I've also had my fair share of pain and struggle."
During the filming of the RenovAID series, the team often had to deal with different families. "There was this one profile … she had had a meltdown the previous night and she was being very difficult. It was drama after drama.
"Very challenging for everyone. So I prayed before I went to meet her: 'God, you love this person. And, God, you gave me RenovAID – after so many seasons I've been asked to come back to host RenovAID again. You must have your purpose, you must have a reason.
"I prayed that the interview would be smooth-sailing and the profile and I would have good chemistry. True enough, when I went upstairs, the moment the profile saw me, she welcomed me with open arms and gave me a kiss on the cheek. So we started to build a wonderful chemistry.
"I understand the heart of a broken person. Who am I to judge her and tell her she's being difficult? Being difficult comes from a place of pain and trauma, and since I've also had my fair share of pain and struggle, who am I to tell her to get over her pain? First, I have to attend to her need. Find her need and meet it, find the hurt and heal it."
Casting from above
Belinda was voted Top 10 Most Popular Female Artiste four times and won numerous Star Awards during her 13 years in MediaCorp.
During those heady MediaCorp years, she acted in numerous dramas, won Top 10 Most Popular Female Artiste four times and came into her own as an award-winning host of series such as Find Me a Singaporean and The Places We Live In.
Belinda parted ways with the company on December 31, 2016.
"It was difficult to leave the comfort zone of the company. For one, I would no longer have a stable income. But that makes me hold on to God even more! Which would you choose: God's security, which is eternal, or company security, which is volatile?" she challenges.
To her relief, projects started flowing in from production houses. In fact, 2017 was a year when "I was busy as a bee. I hardly had time for myself because projects came in one after another. I could see God's gracious provision in my career".
Since then she has filmed two travelogues, National Dishes and Between Two Worlds, for Channel 8 and Channel U. She also acted in original TV drama, Bra, and was invited back to host the eighth season of RenovAID for Channel 5.
"Belinda, for you to come into our production so last-minute, it was a divine arrangement."
"Acting in Bra was a major milestone for me. The TV station told me that they had spent six months looking in Singapore and regionally for an actress to fit the bill. They were panicking because they couldn't find the right actress.
"In the end they invited me to audition and I got the role. The role of Brenda fit me to the core and, after years of acting, I finally found my passion for it.
"The irony is that the original name for my character was Belinda! After the producer gave me the role, he told the writer: 'This is the Belinda we were looking for!'
"Even my writer told me: 'Belinda, for you to come into our production so last-minute, it was a divine arrangement.'
"It's so clear to me that if God has something planned for you, if it is meant to be, nobody will ever be able to take it away from you, be it a job, a house, or a relationship."
Being real
When World Vision, a Chrisitian humanitarian organisation, saw Belinda's compassion when she interacted with people in my shows, they reached out to ask if she would like to be an ambassador for them. "I've always wanted to become an ambassador for World Vision … I just never said it!"
Far from the glamourous MTV days, her current popularity lies in shows where she is most "real".
"My viewers have told me that they like me best when I am myself. The messier my hair, the shinier my face, the more real I am to them," she laughs.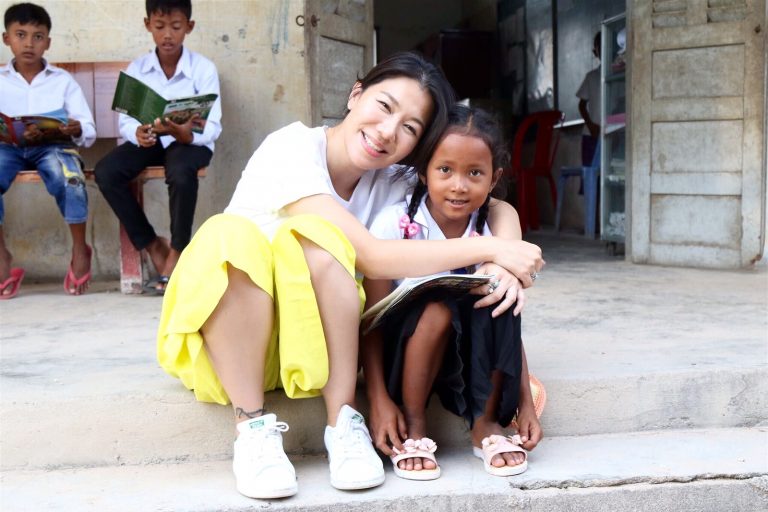 Meeting one of her World Vision sponsored children, Vimean, in Cambodia. Belinda donated the royalties from her book, Larger than Life, to World Vision.
Through World Vision, she sponsored two girls, Vimean and Pramila, from Cambodia and Vietnam.
"I've met both of them personally. It was a beautiful experience!"
Freedom found
Belinda is still "busy as a bee". She sees herself giving more motivational talks, and is working with educational specialists to turn her personal testimony into counselling modules to overcome depression and low self esteem.
"Now that I'm on my own, I get to pick and choose what kind of projects and business opportunities I am passionate about," she says.
"I hold Psalm 139 to my heart dearly. It's a passage that makes me feel so loved by God. It talks about how even when we try to run away from God and hide in darkness, or even when we are in the deepest ocean, He will still find us.
"When I was at MTV, I was young, gullible, empty. I appreciate the 40-year-old Belinda that I am now. I'm a late bloomer!" she said in a 2018 interview with Salt&Light. 
The year is 2020. Now, Belinda Lee – actress, host, businesswoman, humanitarian, wife, daughter of God – has never been happier.
---
This is an excerpt of an article that was first published on Salt&Light.